SUPERPARK GOES UNPLUGGED THIS JUNE!
Non-stop fun this June School Holidays with SuperPark Singapore's NEWEST camp offerings!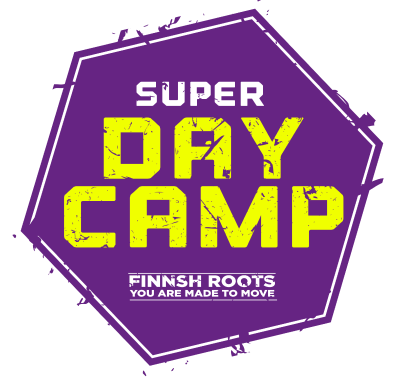 Time to Unplug – The best June Camp with both Indoor and Outdoor Activities!
We encourage kids to disconnect from their devices and reconnect with their surroundings as they embark on a three full-day camp journey with us! Suitable for children ages 7 to 12 years old, this June Camp is packed with exciting and engaging activities!
Venture into the world of farming and discover the importance of each local farm in the NEW outdoor experience with The Local Farm Adventures!
Our SuperCoaches will be introducing popular SuperPark activities such as the trampolines and skating! Campers will harness new skills and tricks at the different play stations and even in Singapore's only indoor Skate and Scoot Park!
For parents, the bonus is knowing your child or children are taking part in motivational activities, learning new essential life skills with Longkang Adventures, discovering the world of Lego Coding with RoBlocks and being kept stimulated in a positive environment. This while being cared for and supervised by our team of Professional Camp Facilitators.
It's definitely going to be a whole lot of fun and adventure!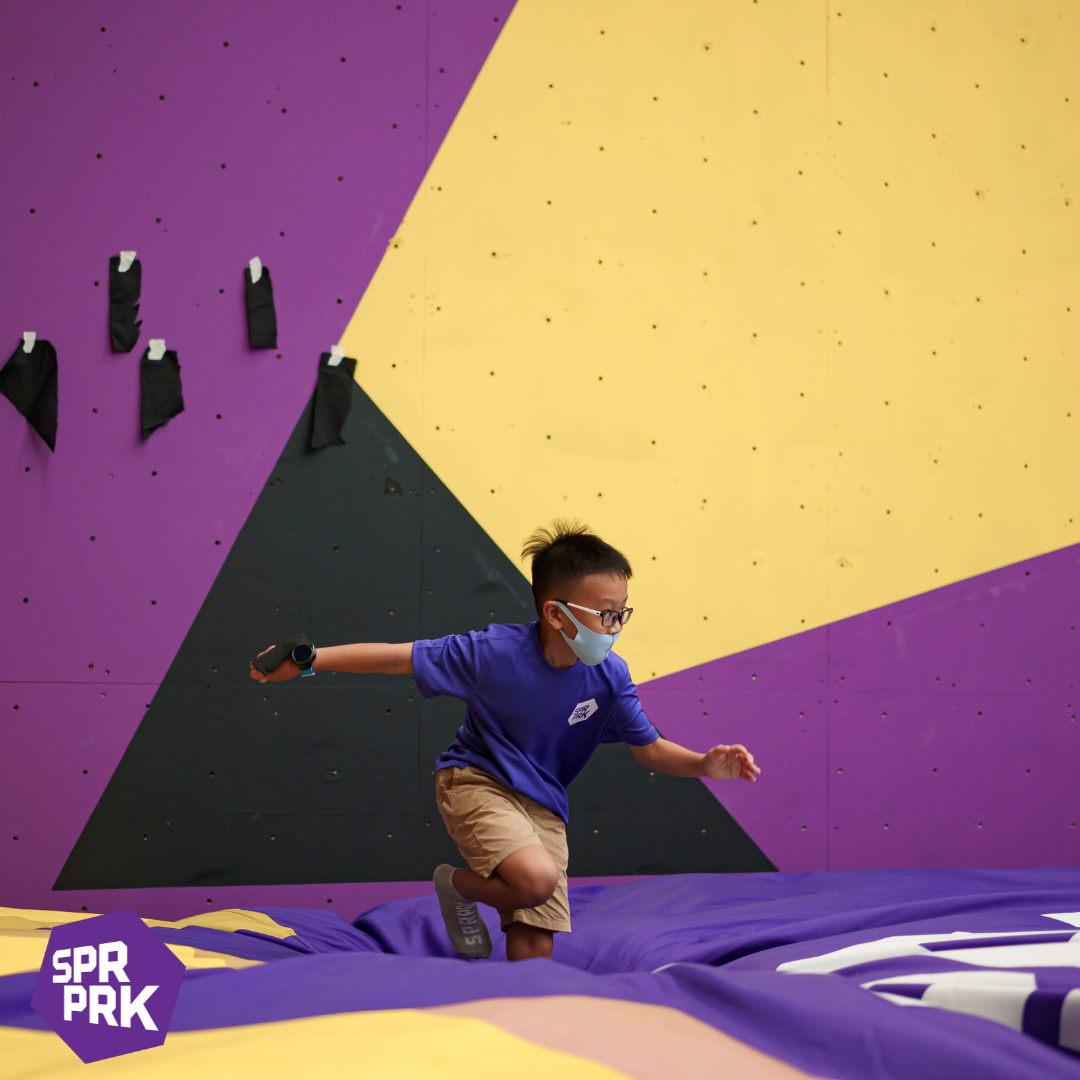 SUPERPARK ACTIVITIES
SKATE AND SCOOT
Kids get to learn and practice how to stop, balance, control speed and turn. It's a great way to get the 60 minutes of physical activity they need each day.
TRAMPOLINES
Master trampoline tricks and bounce higher! Kids can learn to train their balance and land their jumps with our SuperCoach.
PARACORD CRAFT
Discover your inner creative side in our Paracords Design Class! Learn to create colourful & handy everyday accessories such as a bracelet and even a mask strap from scratch.
BLAZE PODS
A new way to train your agility as you challenge yourself and your friends to push beyond your limit!
SUPER HUNT
A time-based challenge where participating teams are given a list of items they need to solve a series of riddles that give clues to the locations of the items that they need to obtain in order to win. Teams will be engaged by running around the park and gaining points to be at the top of the leader board.

THE LOCAL FARM ADVENTURES
Nurturing curiosity in kids about our local farms as they experiment and experience the farm life such as feeding goats and even a chance to carry a young crocodile. Campers will also discover the beauty of local farming, agriculture and how we can support local produce.
OUTDOOR ADVENTURES WE ARE EMBARKING ON:
HayDairies Goat Farm Tour
Jurong Frog Farm Tour
Uncle William Quail Talk
Long Kuan Hung Crocodile Farm
What's more? Farm to table lunch will be provided for all campers!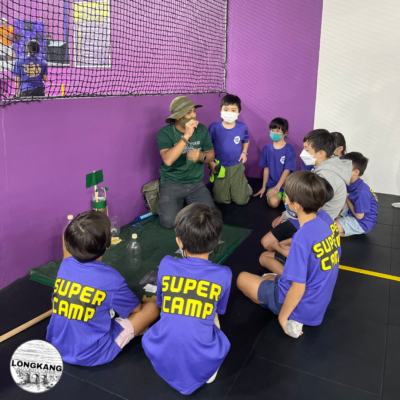 LONGKANG ADVENTURES
Campers will be trained to build a simple temporary shelter to protect them from the unexpected weather, filter dirty water to make it drinkable and even create tools for hunting and security. This will harness their survival skills and appreciate the wilderness more!
Definitely, an unplugged moment from their tech devices.
Camp Inclusions
1 hour of Freeplay EVERYDAY!
Camp goodie bag including camp tee-shirt, SuperPark full-grip socks, wristbands and bottled water
SuperCoach per Camp Group
1 hour of guided activity at each station
(Trampoline and Skate & Scoot)
Registration Closed
Package Price: $580
Camp Dates
7 to 9 June, 8.30am – 4.30pm [SOLD OUT]

21 to 23 June, 8.00am – 4.00pm [SOLD OUT]
Terms & Conditions
BOOKING
Full payment is taken at the end of the booking transaction and then email confirmation of your booking is sent. Full payment is regarded as acceptance of the booking conditions. Please ensure that you have read and understood all the terms and conditions before confirmation and payment for your booking. 
MODIFICATION
SuperPark Singapore reserves all rights to make any and all changes to this website and activities at its sole discretion without prior notice to the camp participants.
REFUND POLICY
100% full refund with an admin charge of $50 with at least 2 weeks' notice. 50% refund with at least 1 week's notice. No refund for less than 1 week's notice and no show.
WAIVER FORM
All participants are required to read and acknowledge the SuperPark Singapore waiver form before getting into the Park. Click here to fill in your waiver.
PHOTOGRAPHY AND VIDEOGRAPHY
Please be aware that we occasionally take photographs or video of children taking part in their camp for our promotional material, social media content and website videos. This content will be captured by our designated SuperPark Marketing team. Please advise SuperPark Singapore at the time of booking if you have any objections to photographs being taken and used for marketing materials like banners, digital marketing or on our website.
DATA PROTECTION
You consent to SuperPark collecting, using, retaining and disclosing personal data provided to SuperPark, for the purposes of safeguarding and promoting the welfare of your child, and where necessary, for the legitimate interests of SuperPark and ensuring that all relevant legal obligations of SuperPark are complied with.  You give your consent to such collection, use, processing and disclosure provided that at all times any collection, use, processing or disclosure of personal data is done lawfully and fairly in accordance with the Personal Data Protection Act (Act No. 26 of 2012). You also consent to SuperPark's affiliates issuing promotional materials to your email address as provided to SuperPark for marketing.
SAFEGUARDING AND CHILD PROTECTION
SuperPark is an equal opportunity employer and also welcomes all children, regardless of their gender, ability, race or religion. Each child attending camp is of equal value and is entitled to equal access to opportunity. We operate a zero-tolerance policy towards discrimination or bullying of any kind. SuperPark has legal obligations in relation to Child. We are committed to keeping children safe and ensuring that we embed a culture of care at the centre of our decision making.
EXCEPTIONS
The level of support varies with each child. To enable your child to fully participate in and enjoy activities at SuperPark, come to speak to our team. Please contact us at camp@superpark.com.sg or call us at 62395360 to best accommodate your child and make any special arrangements if needed.
On rare occasions, a child may prove incompatible with the general well-being of the camp. For example, bullying, aggressive and/or disruptive behaviour. We reserve the right to exclude those who demonstrate these observable behaviours from the camp.No refund will be made for any remaining camp or program days booked. Any costs associated with the child's exclusion will be the borne by the parent/legal guardian.
CAMPS FAQ
1. Are there toilet and shower facilities?

There is a toilet nearby, and accompanied toilet breaks will be arranged throughout the day. Shower facilities are not available.

2. Will my child be sharing equipment with other children?

You can make a booking at least one week in advance. This is subject to availability.

3. Can we bring food/snacks?

Yes. Light snacks are recommended and allowed to be consumed on-site.

4. Can we come earlier?

You may only drop your kids off from 8:25AM (7 to 9 June) and 7.55am (21 to 23 June) onwards daily.

5. Is there an adult that will supervise our child/children throughout the camp?

Yes, your child will be supervised by our camp instructors throughout the camp

6. Must we have masks on throughout the camp?

By default, the mask can only be removed during strenuous exercise & mealtimes

7. Can the parents enter the park to monitor or follow the child/children and bring electronic devices?

Camp is an occasion for campers to build social skills and make new friends. Thus, we request that all electronic devices be left at home (iPad, iPods, Tablets) and parents.

8. What are the wet weather plans by The Local Farm Adventures?

For Gardenasia & Goats farm, the event will proceed regardless of rain. For Crocodile & Frog Farm, we will readjust the programme to house the kids indoors till the weather permits for outdoor activities.

9. Do I need to give allowance to my children?

Not necessary, as most of the activities are paid for unless the children wish to purchase items at the farms.

10. What are the safety measures by Gardenasia when the children handle the animals?

There are farm guides who will be assisting with the animals (which are mainly, Frogs, Quails, and baby Crocodiles) during the tour, and carrying the animals is voluntary.