SUPER DAY CAMP
COMING SOON
MOVE and LEARN with JOY!
Get active physically and mentally with our exclusive holiday program, in groups of 5. Super Day Camp is suitable for children aged 7-12 years.
Master up to 7 unique skill sets and earn your very own achievement badges upon completion!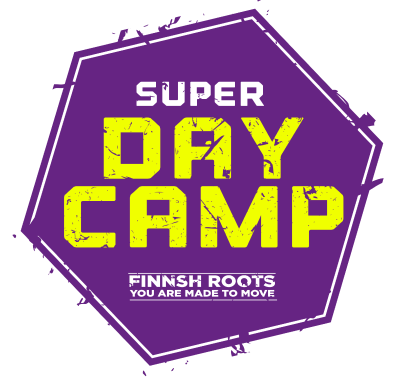 Singapore's most exciting camp with more than 20 activities!
Keeping the kids occupied and entertained during the school holidays is always a battle, but the hard work is done for you with SuperPark Singapore's school holiday camps.
Our school holiday Super Camps, suitable for 7- 12 years old, are exciting and fun, and kids enjoy them as they get to socialise with peers of the same age and make loads of new friends.
For parents, the bonus is knowing your child or children are taking part in motivational activities, learning new skills, and being kept stimulated in a positive environment. This while being cared for and supervised by our team of Professional Camp Facilitators.
Kids will engage in sports-themed activities, arts and crafts, and games.  All current safety health protocols and measures, including masks, temperature checks, and hand sanitising, will be followed to keep everyone safe.
Enhanced Safe Management Measures
– Max of 5 children per group
– Each group will be allocated a dedicated camp room
– Dedicated camp facilitator per group for the entire duration
– Camp groups will maintain 1m distance between others with reminders on hand sanitization after activities
Camp Highlights
Build your own SUMO warrior with RoBlocks! Enter into the arena to see who's the last robot remaining.
Build your own custom bot and bring to life the ultimate contestant through coding and programming using the LEGO® Mindstorms Kit.
Discover your inner creative side in our Paracords Design Class!
Learn to create colourful & handy everyday accessories such as a bracelet and even a mask strap from scratch.
Jump for joy and hop in action at the Trampoline
Master trampoline tricks and bounce higher! Kids can learn to train their balance and land their jumps with our SuperCoach.
Scoot & skate to your heart's content!
Kids get to learn and practice how to stop, balance, control speed and turn. It's a great way to get the 60 minutes of physical activity they need each day.
Train your motor skills, flexibility and logical thinking at SuperClimb!
Our SuperCoach will equip your young ones with the proper climbing techniques and help your child conquer heights and build stronger body stamina and dexterity!
NEW: Synergize with others and energize with power generated from each strike on the Cajon!
Engage rhythmically and become the discerning musician you've always wanted to be with our immersive thematic content.
NEW: Witness STEAM come alive through Rube Goldberg Machines!
Rube Goldberg Machines are machines designed to perform tasks in a fun way. Your child will learn about Rube Goldberg, design and build Rube Goldberg machines and engineer jaw-dropping chain reactions! Be exposed to real-world problem solving and the physics behind how machines work while developing critical thinking, creativity and collaboration skills. Children will also experience failure and success through trial-and-error, an important lesson in innovation!
Camp Inclusions
One hour free play on a dedicated day and during free time
Camp goodie bag including camp tee-shirt, SuperPark full-grip socks, wristbands and water bottle
SuperCoach to student ratio – 1 : 5
1 hour of guided activity at each station
(Trampoline, Super Climb and Skate & Scoot)
In Partnership with

Terms & Conditions
BOOKING
Full payment is taken at the end of the booking transaction and then email confirmation of your booking is sent. Full payment is regarded as acceptance of the booking conditions. Please ensure that you have read and understood all the terms and conditions before confirmation and payment for your booking. 
MODIFICATION
SuperPark Singapore reserves all rights to make any and all changes to this website and activities at its sole discretion without prior notice to the camp participants.
REFUND POLICY
In the event of a lockdown (circuit breaker), SuperPark Singapore will refund the full amount paid less $50 admin charge which goes towards the preparation of the camp goodie bags that will still be distributed to your child/ward.
WAIVER FORM
All participants are required to read and acknowledge the SuperPark Singapore waiver form before getting into the Park. Click here to fill in your waiver.
PHOTOGRAPHY AND VIDEOGRAPHY
Please be aware that we occasionally take photographs or video of children taking part in their camp for our promotional material, social media content and website videos. This content will be captured by our designated SuperPark Marketing team. Please advise SuperPark Singapore at the time of booking if you have any objections to photographs being taken and used for marketing materials like banners, digital marketing or on our website.
DATA PROTECTION
You consent to SuperPark collecting, using, retaining and disclosing personal data provided to SuperPark, for the purposes of safeguarding and promoting the welfare of your child, and where necessary, for the legitimate interests of SuperPark and ensuring that all relevant legal obligations of SuperPark are complied with.  You give your consent to such collection, use, processing and disclosure provided that at all times any collection, use, processing or disclosure of personal data is done lawfully and fairly in accordance with the Personal Data Protection Act (Act No. 26 of 2012). You also consent to SuperPark's affiliates issuing promotional materials to your email address as provided to SuperPark for marketing.
SAFEGUARDING AND CHILD PROTECTION
SuperPark is an equal opportunity employer and also welcomes all children, regardless of their gender, ability, race or religion. Each child attending camp is of equal value and is entitled to equal access to opportunity. We operate a zero-tolerance policy towards discrimination or bullying of any kind. SuperPark has legal obligations in relation to Child. We are committed to keeping children safe and ensuring that we embed a culture of care at the centre of our decision making.
EXCEPTIONS
The level of support varies with each child. To enable your child to fully participate in and enjoy activities at SuperPark, come to speak to our team. Please contact us at camp@superpark.com.sg or call us at 62395360 to best accommodate your child and make any special arrangements if needed.
On rare occasions, a child may prove incompatible with the general well-being of the camp. For example, bullying, aggressive and/or disruptive behaviour. We reserve the right to exclude those who demonstrate these observable behaviours from the camp.No refund will be made for any remaining camp or program days booked. Any costs associated with the child's exclusion will be the borne by the parent/legal guardian.
CAMPS FAQ
1. Are there toilet and shower facilities?

There is a toilet nearby, and accompanied toilet breaks will be arranged throughout the day. Shower facilities are not available.

2. Will, my child, be sharing equipment with other children?

As much as possible, all equipment and tools will not be shared. In situations where equipment must be shared, it will be sanitised after each use.

3. Can we bring food/snacks?

Yes. Light snacks are recommended and allowed to be consumed on-site.

4. Can we come earlier?

You may only drop your kids off from 1245 hrs onwards daily.

5. Is there an adult that will supervise our child/children throughout the camp?

Yes, your child will be supervised by our camp instructors throughout the camp

6. What is SuperPark's operating capacity for the duration of the camp?

SuperPark will be operating at a 40% capacity.

7. Will my children be in groups of 5 and no intermingling between groups and other guests?

That is correct. Your child/children will be assigned to a group of a maximum of 4 participants, and no intermingling between groups and other guests. Camp groups will be separated from public groups except during free play.

8. Must we have masks on throughout the camp?

By default, the mask can only be removed during strenuous exercise & mealtimes

9. Can the parents enter the park to monitor or follow the child/children?

You are not allowed to enter the park without purchasing a SuperPark regular ticket. It is also recommended not to follow the children. This will allow them to concentrate on the planned activities.