Buy online &
skip the queue!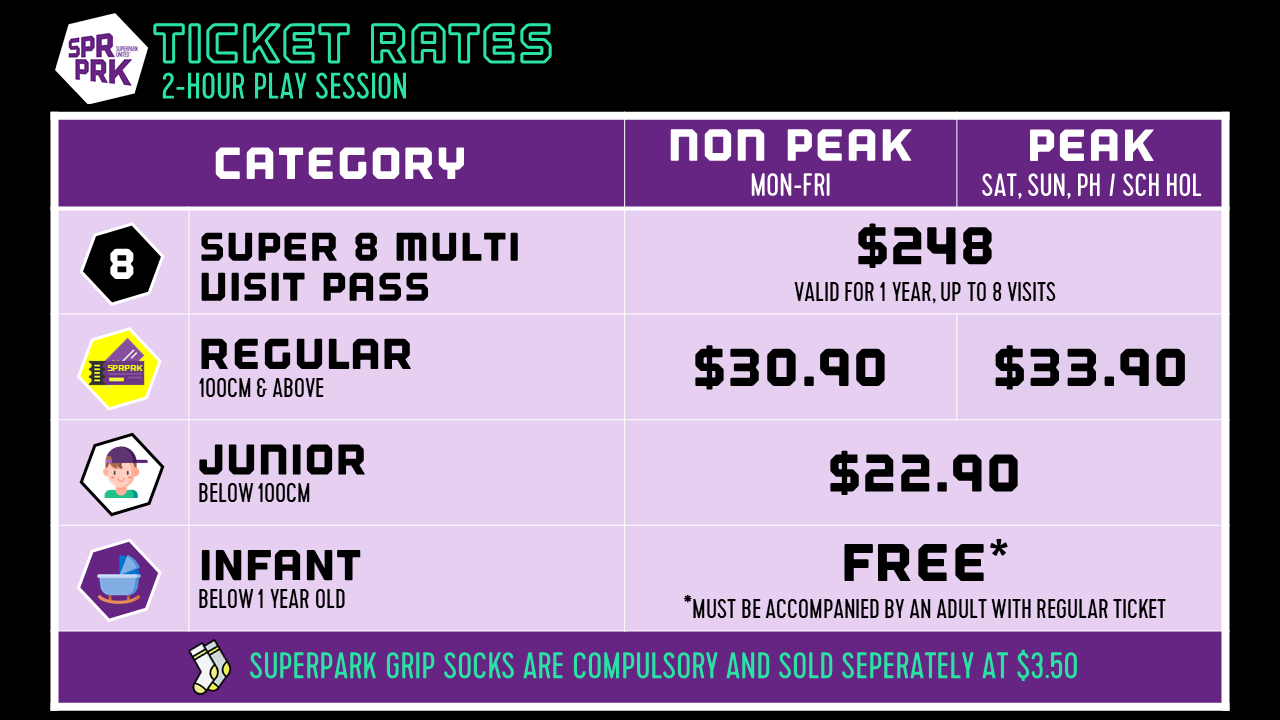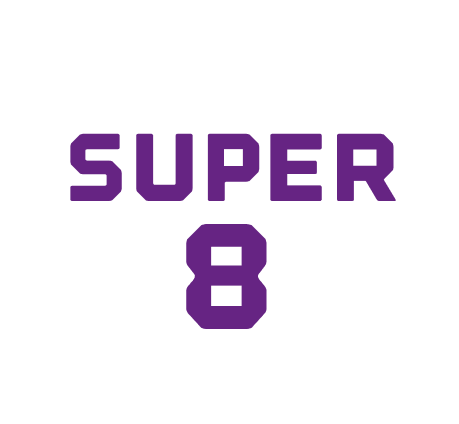 SUPER 8 Multi visit-pass, $248
Save more with SUPER 8 multi-visit pass valid for 8 visits in 12 months! Share your experience with your family & friends!

REMINDER: Booking is required separately.
Terms & Conditions:
Up to 8 visits to SuperPark Singapore on any session timeslots
Valid for 12 months from the date of purchase
Valid for Regular Tickets
Compulsory SuperPark full-grip socks are not included
SUPER 8 Multi-Visit Pass is transferable between guests
Lost or stolen passes will not be replaced or refunded
HOUSE RULES
Kindly arrive at least 15 – 30 minutes before your session begins to maximise your playtime.
SuperPark Singapore adheres strictly to the Safety Management Measures (SMM). Hence, all guests must wear their face masks to adequately cover the nose and mouth area.
Children under 8 years old must be accompanied by one adult (18 years old and above) for entry. Additional adults will be chargeable at Regular Ticket (sold separately).
Upon check-in, proof of birth date may be required (babies below 1 or children below 8 years old).
Parents and guardians are responsible for supervising children under their care throughout the visit to the park.
All guests entering SuperPark Singapore must complete the Waiver Form before entering the park.
SuperPark grip socks are always required while you are in the park. Ticket price excludes grip socks; SGD$3.50 per pair.
Please be in your athletics wear or gym outfit for optimum fun and comfort in our park.
Tickets and wristbands are non-refundable, non-transferable, and not for resale.
SAFETY GUIDELINES
For your safety and great experience, all activities are designed with height limits; please refer to below:
Archery
SuperClimb
Flying Fox
Tube Slide

Max 120cm:

Kid's Trampoline
Kid's Airbag

Min 120cm:

Trampoline
Valo Jump
Super Airbag
Skate & Scoot World

Min 140cm:
Other activities without height restrictions:

Adventure City
iWall
iTeacherLü
SuperBall
SuperHoop
SuperPinball
SuperBowl
Hot Stepper
Augmented Climbing Wall
Street Basketball
Street Soccer
Pedal Car Track
Ninja Track

The following activities are designed with a maximum weight limit of 120kg for safety:

Trampoline Platform
Valo Jump
Flying Fox
Super Climb
No belt buckles, protruding hairpieces, or studs on clothing are permitted.
For some activities, we recommend emptying your pockets.
All electronics, mobile devices, and other handheld objects are not allowed on trampoline mats and padding.
Covered sports shoes are required for Super Climb and Skate & Scoot World.
The Terms & Conditions are intended to be read. Please read each of these documents as they comprise the Conditions of Entry and use of a Ticket constitutes acceptance of the Conditions of Entry.
SuperPark Singapore reserves the right to change the Terms & Conditions without prior notice at SuperPark Singapore's discretion.