Celebrate in style, Move with joy!
Get your birthday treat at SuperPark.
Gather your family and friends for a FUN TIME!
FABULOUS 5 PARTY PACKAGE
INCLUSIVE OF PARTY HOST
Birthday party package starts from $450  (U.P. $550) for a group of 5 pax
For enquiries, email us at parties@superpark.com.sg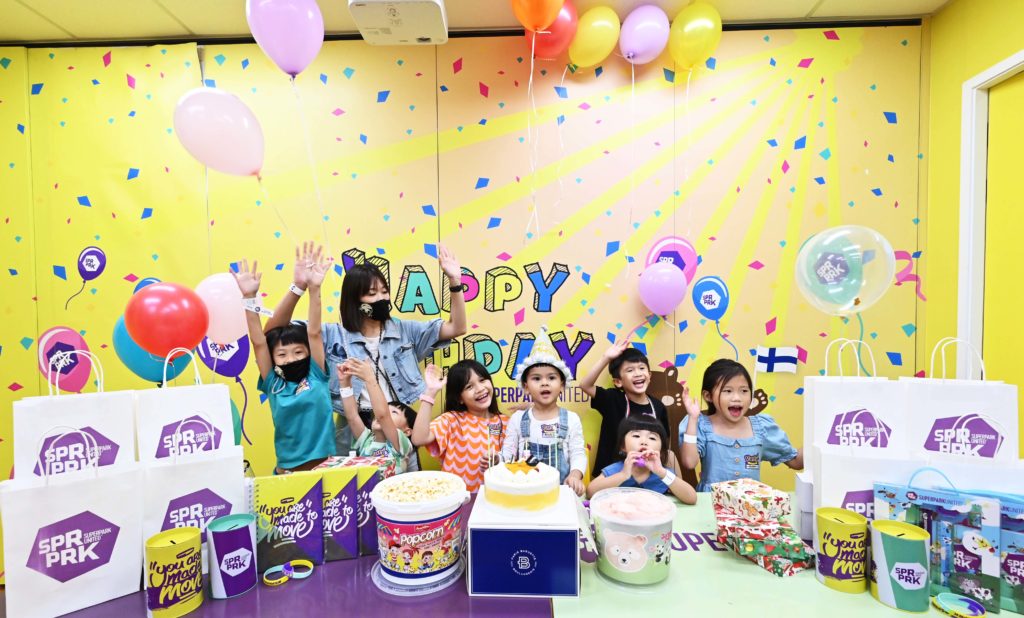 Let our friendly Party Guide host your Birthday here at SuperPark!
✓ Express Private Check-in at arrival
✓ Additional 30 minutes Party Time after play
✓ Inclusive of tickets for 5 pax (inclusive of adults and children)
✓ 2 Hours of Party Room usage & Guided Play Time with Host
✓ Inclusive of SuperPark full grip socks for each of the 5 party guests (celebrant inclusive)
✓ A door gift for each of 5 party guests (celebrant inclusive)
*Additional pax at $55 (when permissible)
Indulge in Unlimited Party Fun!
SuperPark strives to bring endless smiles, laughter and "all-you-can-play" activities to all our birthday heroes and their guests. Experienced in hosting over 2000 party celebrations in various sizes, we have many unique features withstand even the most boisterous of people and parties!
#youaremadetomove
BIRTHDAY PARTIES FAQ
1. How do I make a party reservation?

Simply email us at parties@superpark.com.sg to enquire on party details and reservations. Please indicate your preferred party date and time. Our party coordinator will get in touch to advise on the availability within 5 working days.

2. How can I confirm my party booking?

To confirm your booking, please send us an email confirmation and note that a 50% non-refundable deposit is required to confirm the party.

3. If I have more than 5 guests, can I still proceed?

SuperPark Singapore will abide by the guidelines stipulated by MOH. At the moment, the max group size is 5 pax each. We are unable to accept party bookings with more than 5 guests, including adults and children. We seek your cooperation and understanding to abide by the laws to keep everyone safe.

4. What is the role of the party host?

The party host will assist with the cake-cutting ceremony in the private party room and guide the group with a structured play program throughout the 2-hour play time.

5. What is the minimum age requirement for kids?

As this is a drop off birthday party, the minimum age requirement is 6 years old. The party celebration will consist of 5 kids and 1 party host guide.

6. If some of my guests don't show up that day, any partial refund?

We are unable to do any partial refund if the number of guests falls below the confirmed numbers. There will be no changes to the final bill.

7. Does everyone in my party have to sign waiver?

Yes, everyone must sign the waiver form. Minors below 18 will need a parent/guardian to sign the waiver form on behalf.

8. Can we add more time to our party room if we determine we would like to stay longer?

We are unable to do any extension on the usage of party room after the selected 2-hour session as our park will be closed for sanitization for the next session.

9. Is there any guideline on the clothes or footwear to enjoy the park?

Come in comfortable clothing as our park activities requires plenty of movement. Kindly note that covered shoes are required for these two activities – Super Climb and Skate & Scoot World. Please note that SuperPark Full Grip Socks are required for play. Socks are included in the party package for all invited guests/celebrant.

10. Can I remove items from the package?

You may choose to do so. However, please note that the price of the party package will remain the same.

11. Are we allowed to bring in my own food?

Yes, please make your own arrangement for food as we do not provide catering options at the moment.

12. Can I do my own room decorations?

Yes, you may decorate the party room with your own decorations. Please note that decorations put up should not damage the existing premise, else there will be a charge for the relevant damages.

13. What if my guests arrive late?

The party sessions are fixed. We encourage you to remind your guests to arrive promptly at the stipulated time. There will be no extension on party time if guests arrived late.

14. When do guests need to exit the party room?

The room is available to you and your guests for the 2 hours party session booked.
All guests will need to leave the party room after the session.

15. When will I need to settle payment in full?

A 50% non-refundable deposit for the party package is required to secure a booking upon email confirmation. The final 50% can be made on the actual day of the party.

16. When do I need to give the final details of my party attendees?

Kindly provide us the final details of your party attendees 1 week before the party date. This will include the total pax and their names.

17. What is the cancellation policy?

Cancellation of party is not allowed. However, in the unforeseen circumstances where you need to cancel the party, kindly inform us at least 1 week prior to your party to have your deposit converted to store credits. Notification with less than 1 week notice will result in forfeiture of the non-refundable deposit.