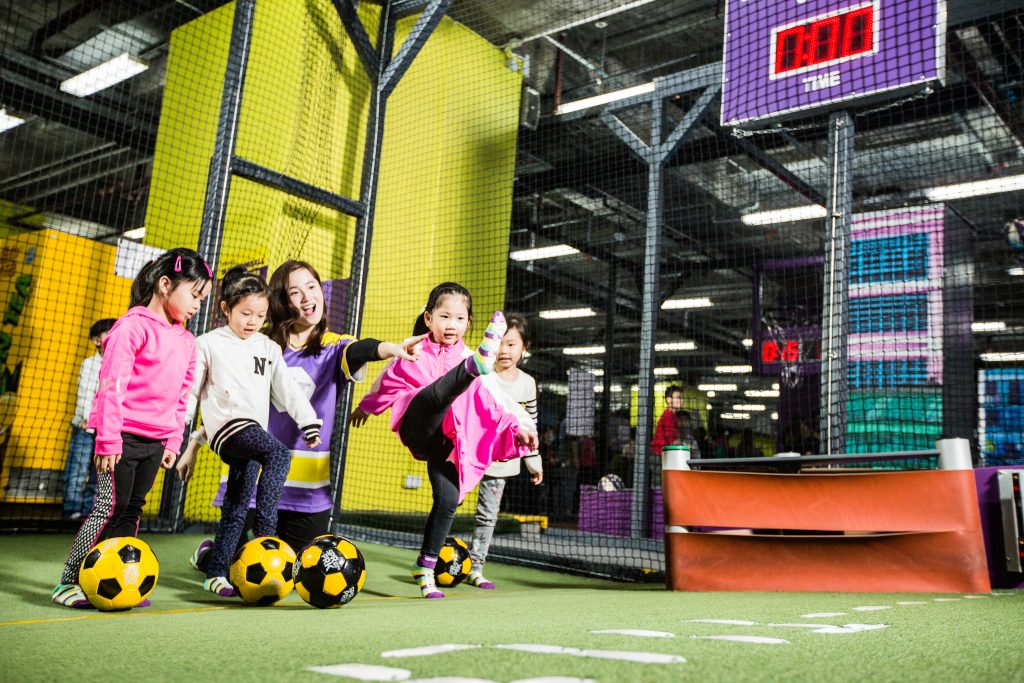 Limited Time Promo- Pure Play Package
✓Pure Play Party Package consist of Party room usage
✓1 hour hosted play in park and full day park entry (worth $48) excluding catering
Limited slots per day! First come first serve basis!
Indulge in Unlimited Party Fun!
SuperPark strives to bring endless smiles, laughter and "all-you-can-play" activities to all our birthday heroes and their guests. Experienced in hosting over 2000 party celebrations in various sizes, we have many unique features withstand even the most boisterous of people and parties!
#youaremadetomove
Party Inclusions Package Options Terms & Conditions ENQUIRE NOW
Celebrate in style with SuperPark! With fun activities and tasty treats, what else could the birthday hero ask for?
Our activities and games will leave guests with an unforgettable experience and a great way for children to burn off extra energy!
SuperPark is designed to withstand even the most boisterous of people and parties!
Our Party Package Includes
A RECIPE FOR BIRTHDAY SUCCESS!
Why bother with the time-consuming drain of arranging your child's birthday party? Let us do all of the hard work for you!
A birthday party at SuperPark requires little 'set-up' for the parents, leaving valuable time for bonding with the birthday hero and guests.
45 minutes
to enjoy
exclusive activities with our party host
60 minutes
access
to your own private party room
Three
food package options
to fuel your party guests
UNLIMITED
FULL DAY ACCESS
to all activities in SuperPark
A free
1-day pass
for the birthday kid for the next visit
SuperPark
grip socks
for everyone
Select your package below
FAQ
What will SuperPark party host do?
The party host will be there to take care of your party guests and tour the kids around the park to maximise the experience at SuperPark.
Can I extend the room time past the 60 mins?
Yes, you can! The room charges are at $300 per hour.
Can I bring my own cake?
Yes, your party package includes complimentary cakeage fee.
Can we deliver our birthday cakes to SuperPark directly?
Sure! Please let us know the delivery details in advance.
Can parents join in without being part of the Package?
Family participation is our DNA and we strongly encourage for the parent to play alongside the kids. Otherwise, they are allowed into the party room for the birthday celebration. You can also order food for them from our side menu.
Can I do decoration in the SuperPark party room?
Our party rooms are pre-decorated with themed walls. However, please feel free to decorate the room. Do note that only blue tack are allowed.
Can I book a party at any time?
We have four specific time-slots daily, as below:
1. 10AM – 12PM
2. 1PM – 3PM
3. 4PM – 6PM
4. 7PM – 9PM
Please contact us for more details!
Terms & Conditions
Minimum of 15 guests are required for a party.
Any child below 8 years old must ALWAYS be accompanied and supervised by a responsible guardian (aged 18 or above) with paid and valid admission.
No cancellation and refund are allowed.
A non-refundable deposit of 50% must be paid when making your booking to secure the room. Bookings are not confirmed unless or until this deposit is received.
Details and payment in full must be received no later than 7 days prior to the event or party day. If full payment is not received in this time, the booking will be cancelled and the deposit paid will be forfeited.
Any extra participant on the party day is subject to availability of the ticket and food.
Vegetarian and halal packages are also available and upon request.
Corkage fee is $25 per bottle.
Additional outside catering fee is $20 per person.
Goodie bags are available at $20 each and it includes frisbee, soft baseball, key chains, wristbands, sweatband, stickers.
A room damage penalty of $500 will be imposed if the room is not returned in its original condition.
If you have guests with allergies please let us know when making your confirmation.